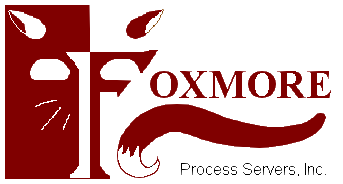 As one of Richmond Virginia's most trusted process serving agencies, Foxmore Process Servers provides service of process and other related assistance to many of the states most notable law firms, financial institutions and credit agencies. Whether here in town or across the nation, our staff at Foxmore take a personal interest in all of our clients big or small, and maintains the individual attention each deserves.
Clients are always assured of the integrity of our work. Our skilled process servers are experienced, expertly trained and detail oriented ensuring legally defendable service of process time and again.
The chief advantage of using a professional process serving company such as Foxmore, is that they are more reliable, and can, if required, later be called to testify or give testimony by affidavit that service of process was effectuated in accordance with the rules of service, which is important in proving personal jurisdiction.
You should use Foxmore Process Servers to deliver your summons, writ or legal document to prevent any defendant from escaping service. See for yourself how our technology driven solutions delivered with a personal approach and friendly staff expertly manage the service of process.